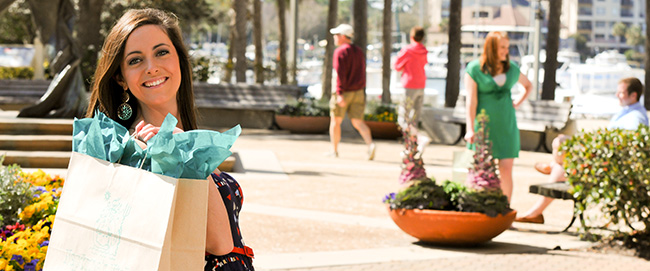 Shop 'Till You Drop on Hilton Head Island!
After you have strolled along Hilton Head's beautiful beaches, tasted the delicious local seafood and Southern barbeque at some of our excellent restaurants, and played golf at any of our many world class courses; set your sights on spending some quality shopping time at our many unique stores, boutiques, and malls on Hilton Head Island!
Hilton Head offers a wide variety of shopping opportunities from fashionable, locally owned boutiques, shopping malls, and quaint shopping villages to bargain outlets, consignment stores, and eclectic souvenir shops. Hilton Head has just what you're looking for!
No matter where you are staying on the Island, you are never far from great shopping destinations! Some of the island's premier women's clothing and shoe boutiques offer a complete selection of designer fashions – from indulgences to essentials!
The jewelers of Hilton Head Island and Bluffton offer everything you could imagine in the way of adornment! From simple trinkets such as natural shark's teeth, starfish, and sanddollar pendants strung on fishing line to fine rare gems and precious metals, local jewelers have the ideal keepsakes to please locals and visitors alike.
Signature pieces like island-shaped pendants, lighthouses, arching dolphins and other figures captured in stone, shell, silver, and gold are widely available. Should you tire of shucking your own oysters hoping to find a treasure, lovely pearls await you in many fine stores! Any of these is a fine memento of time spent on Hilton Head Island.
Popular "take home" items from Hilton Head Island include t-shirts from the world famous Salty Dog Cafe, beautiful art from Endangered Arts, Ltd., a unique piece of island jewelry, or a souvenir Harbour Town Lighthouse from the Top of the Lighthouse store in Sea Pines.
No matter what you decide to take home with you from your vacation on Hilton Head Island, the memories of time spent on our beautiful island will have you counting the days until you can visit again!